By University of Nebraska Communications
Lincoln - The Nebraska women's basketball team will honor 2014 first-team All-American Jordan Hooper by raising a banner with her last name and No. 35 inside Pinnacle Bank Arena on Pack PBA Day when the Huskers play host to Indiana, Jan. 7.
Hooper, one of only three players in Nebraska history to achieve the combined career milestones of 2,000 points and 1,000 rebounds, will join the other two Husker greats to accomplish the feat - Karen Jennings (No. 51, 2,405 points, 1,000 rebounds) and Kelsey Griffin (No. 23, 2,033 points, 1,019 rebounds) in being permanently honored inside the arena. Hooper, a 6-2 forward from Alliance, Neb., finished her career with 2,357 points and 1,110 rebounds.
Also like Jennings and Griffin, Hooper was a first-team All-American and a conference player of the year. Hooper captured 2014 Big Ten Player of the Year honors before leading Nebraska to the Big Ten Tournament Championship. She also helped power the 2013 Nebraska team to the 2013 NCAA Sweet Sixteen. Both the 2013 and 2014 teams will be honored on Alumni Day as part of Pack PBA (Jan. 7), providing Hooper with a team full of support on the court when she is recognized. While her No. 35 will be permanently recognized at PBA, it will continue to be available to future Huskers.
In addition to taking a special place in program history alongside Jennings (Persia, Iowa) and Griffin (Eagle River, Alaska), Hooper will join another Nebraska High School legend and 1988 Big Eight Player of the Year Maurtice Ivy (No. 30, Omaha Central) among Huskers with their jerseys recognized inside the arena. Ivy scored 2,131 points during her four-year career at Nebraska (1985-88).
Hooper, who received a call from Nebraska Head Coach Amy Williams and several members of the current Husker team on Friday morning, was shocked by the honor.
"It was incredible. I had no idea it was coming," Hooper said from her home in Alliance. "I am just so honored and so proud. To be able to have my teammates around me when my banner goes up inside PBA will mean so much to me. What a great day today is, and what a great day that will be. I don't like to get emotional about many things, but I got emotional when Coach Williams and the players told me. It was overwhelming."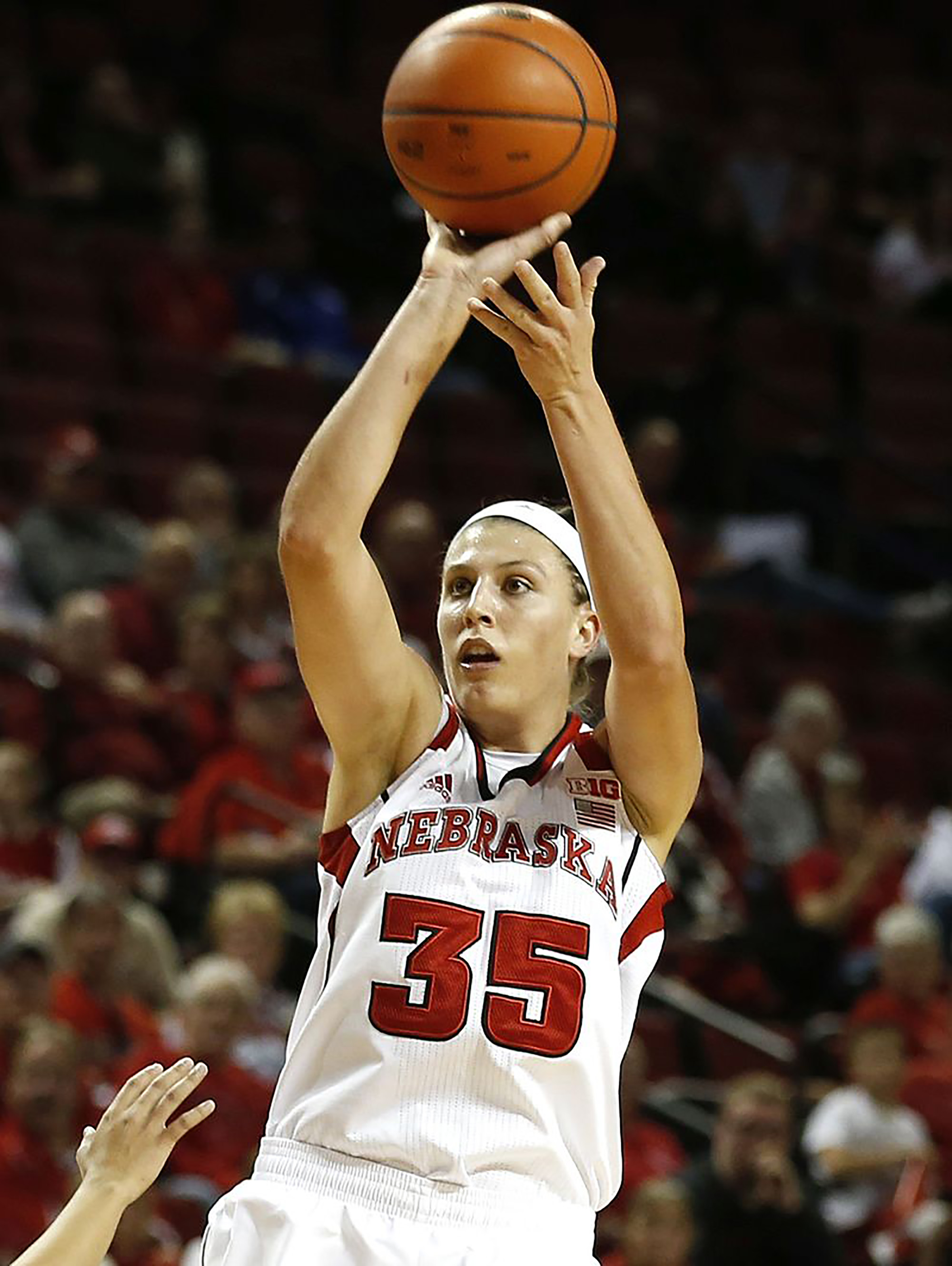 Williams said it was a significant moment for her and the current Huskers, too.
"It was really special. When Jordan got emotional then I got emotional," Williams said. "For our players to hear how much that moment and this honor meant to Jordan was a once-in-a-lifetime moment and an unforgettable reinforcement of just how special it is to be a Husker."
Hooper's accomplishments were legendary. The two-time Nebraska Gatorade High School School Player of the Year (2008, 2010) at Alliance was a first-team WBCA All-American and a first-team Senior CLASS All-American in 2014. She was also a finalist for the Wade Trophy, Wooden Award and Senior CLASS Award. The three-time first-team All-Big Ten choice (2012, 2013, 2014) was also a two-time honorable-mention All-American by both the WBCA and the Associated Press in 2012 and 2013. She was also a member of the Big Ten All-Tournament Team in 2012 and 2014.
A member of the Big 12 All-Freshman Team in 2011, Hooper started all 131 games of her Husker career, averaging 18.0 points and 8.5 rebounds, including 20.4 points and 9.1 boards as a senior. She also smashed the Nebraska career three-point record by knocking down 295 threes.
She helped Nebraska to the most successful three-year stretch (75-25) in school history, including a 26-7 record as a senior, a 25-9 mark as a junior when Nebraska played for a share of the regular-season Big Ten title on the final day of the season, and a 24-9 record as a sophomore when the Huskers advanced to the Big Ten Tournament Championship game.
Hooper was also a standout in the classroom and community, claiming a trio of Academic All-Big Ten honors and a Big Ten Sportsmanship Award in 2014. She also represented the United States and won a gold medal at the 2013 World University Games.
She went on to be the No. 13 overall pick in the 2014 WNBA Draft by the Tulsa Shock. The first pick of the second round, Hooper spent two seasons with the Shock before the team became the Dallas Wings in 2016. She split time with Connecticut, Atlanta and Chicago in her final season in the WNBA in 2017.
After earning her bachelor's degree in psychology from Nebraska in May of 2014, Hooper also had an outstanding international pro career, spending nine seasons in Turkey (Besiktas, 13.1 ppg, 6.0 rpg, 2014-15) and Puerto Rico (Atenienses de Manat, 2015), before playing in Australia's WNBL (Southeast Queensland, 18.5 ppg, 8.6 rpg, 2015-16). She went back to Turkey to play for the University of Istanbul Club (12.5 ppg, 6.2 rpg, 2016-17) before heading back to Australia for 2017-18 (Canberra, 11.8 ppg, 5.0 rpg).
She spent four of her last five pro seasons in Israel, including Elitzur Holon (18.1 ppg, 8.6 rpg, 2018-19) and A.S. Ramat Hasharon (13.0 ppg, 9.7 rpg, 2019-20), Hapoel Petka Tikva (15.7 ppg, 9.0 rpg, 2021-22) and Hapoel Rishon Le-Zion (13.4 ppg, 8.6 rpg, 2022-23). Hooper played in the Belarus Premier League for BK Tsmoki-Minsk in 2020-21 (15.3 ppg, 8.8 rpg).
The ceremony honoring Jordan Hooper and the 2013 and 2014 Nebraska teams will be part of Pack PBA Day when the Huskers take on defending Big Ten regular-season champion Indiana on Sunday, Jan. 7. Tickets are on sale now at Huskers.com/Tickets.
Nebraska Retired JerseysNo. 51 - Karen Jennings (1990-93) - 6-2, Forward, Persia, Iowa - 1993 First-Team All-American/Wade Trophy - 1993No. 30 - Maurtice Ivy (1985-88) - 5-9, Forward/Guard, Omaha, Nebraska - 1988 Big Eight Player of the Year - 2011No. 23 - Kelsey Griffin (2006-10) - 6-2, Forward, Eagle River, Alaska - 2010 First-Team All-American/Senior CLASS Award - 2014No. 35 - Jordan Hooper (2011-14) - 6-2, Forward, Alliance, Nebraska - 2014 First-Team All-American - 2024